Joplin: an awesome note-taking application, available on multiple devices
Joplin is an open source note-taking app, with lots of features including synchronization capabilities and available on Linux, Android, macOS, Windows and iOS.
Table of Contents
Installation
As I said, Joplin is available on Linux-based systems (as an AppImage), on Android (as a Google Play or F-Droid package), Windows (as an installable EXE or a portable version), macOS (DMG package) and iOS (Apple Store). The F-Droid package is included inside IzzyOnDroid repository.
Go to https://joplinapp.org/download/ and download Joplin. I will use it on a Linux-based computer and on an Android phone.
Usage
Features
Joplin uses GitHub-flavoured Markdown syntax for the notes and you can embed images, videos, audios or PDFs. You can also add math expressions (LaTeX) and diagrams (using Mermaid syntax). You can even extend Joplin capabilities with plugins.
You can sort the notes or do a full-text search.
Set alarms.
Geo-locate your notes.
Add tags.
Set an end-to-end encryption (create a master password before enabling it).
Export your notes as PDF by right-clicking on the note title (note list panel) and clicking on Export -> PDF - PDF File. You can also export to HTML or Markdown.
Import Markdown files or Evernote Export Files (ENEX).
Edit a note on a external editor by clicking on the icon with a square and an arrow (press Stop when you finish editing).
Joplin includes a spell-checker.
Create sub-notebooks.
And more features (check https://joplinapp.org/help/#features).
Interface
After downloading Joplin and making the AppImage executable, double-click on it to start the app. As you can see, Joplin interface consists of several panels or sections:
First one (from the left) shows the list of notebooks and tags.
Second one shows the notes inside the selected notebook. You can also create new standard or To-Do notes from here.
Third one shows the note content and is divided in two panels by default: a panel to write the note and the other to see the rendered markdown.
Joplin includes several dark and light themes.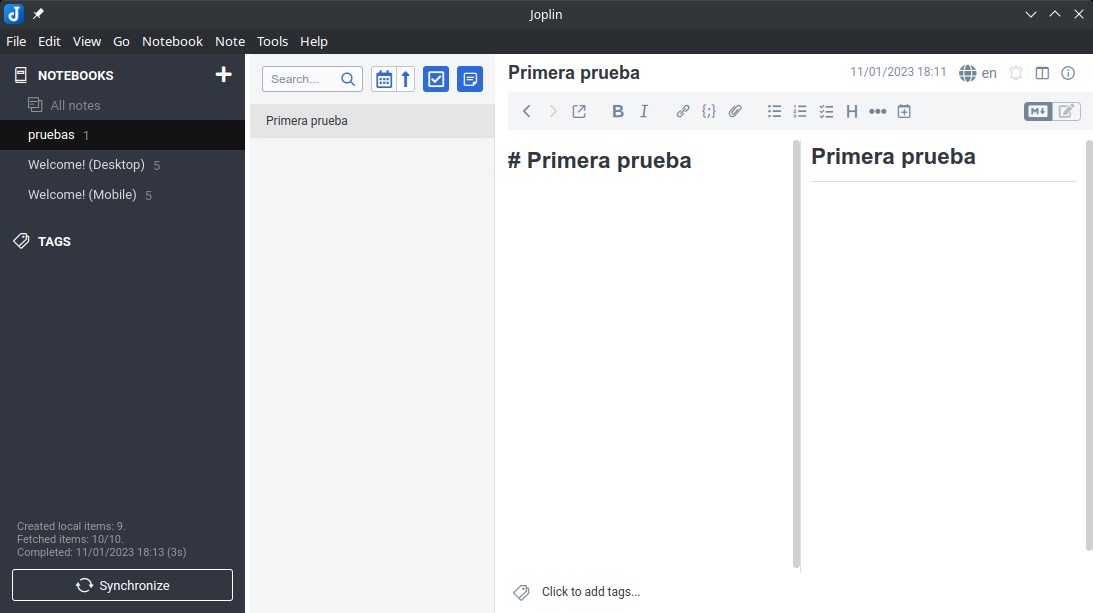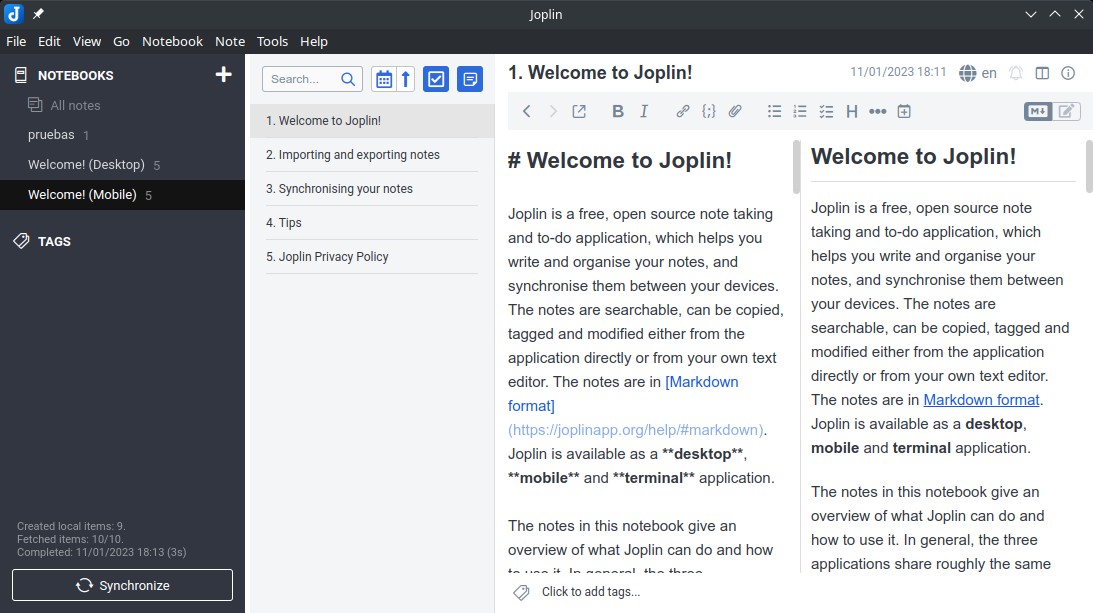 Android app is similar but adapted to a phone screen. The main window shows the notes inside the selected notebook. To select a different notebook, press the menu icon. Within this menu, you can also create new notebooks or manage tags.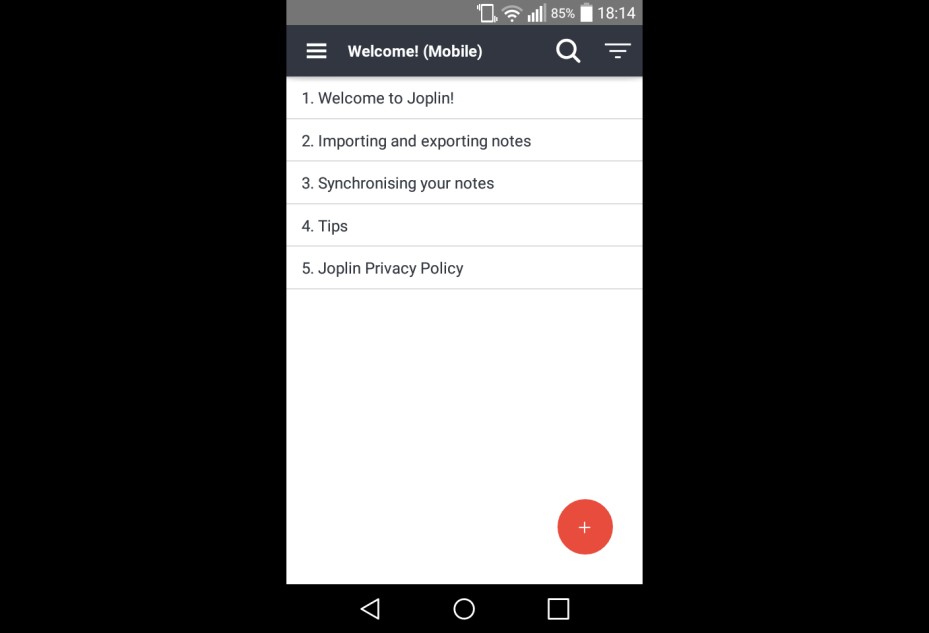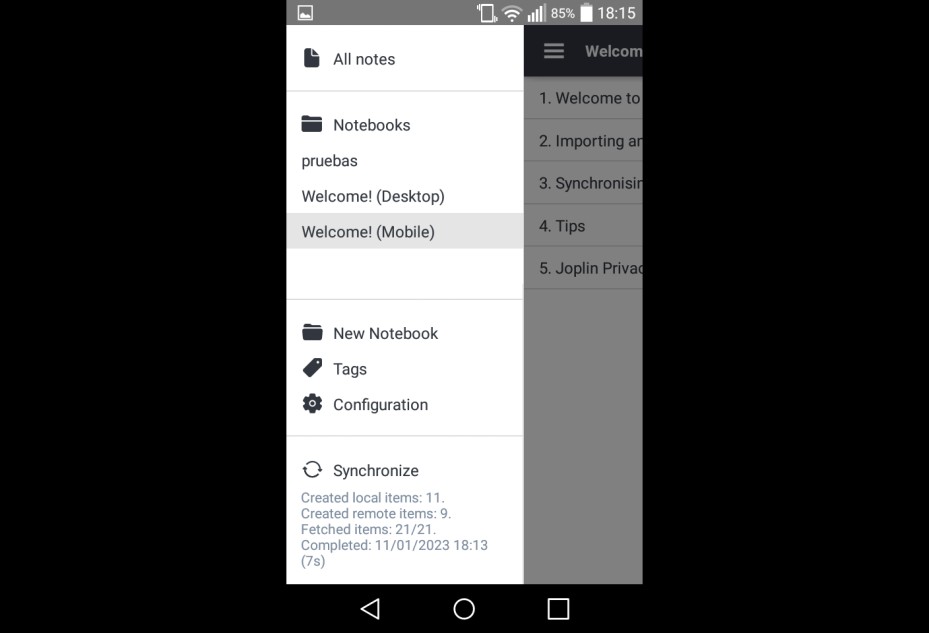 Synchronization
One of the most used features of a note-taking app is synchronization. Joplin is compatible with several cloud services (Dropbox, Nextcloud, WebDAV, OneDrive, S3). It also has its own cloud service (Joplin Cloud, from 1.49€ per month) or you can use your own Joplin server. I've synchronized my computer and Android phone with Syncthing.
To access synchronization options, go to Tools -> Options on the Linux app, or Menu -> Configuration on the Android one. Inside the Syncronization section you can configure it. To synchronize with Syncthing, first create the folder that will be synchronized and, if the folder is not inside an already synchronized folder, add it to Syncthing and synchronize it with the phone. Then, on Joplin, select File system in Synchronization target and type the full path of the new folder (do not include the trailing slash after the folder name). Save the changes and do the same on the other devices.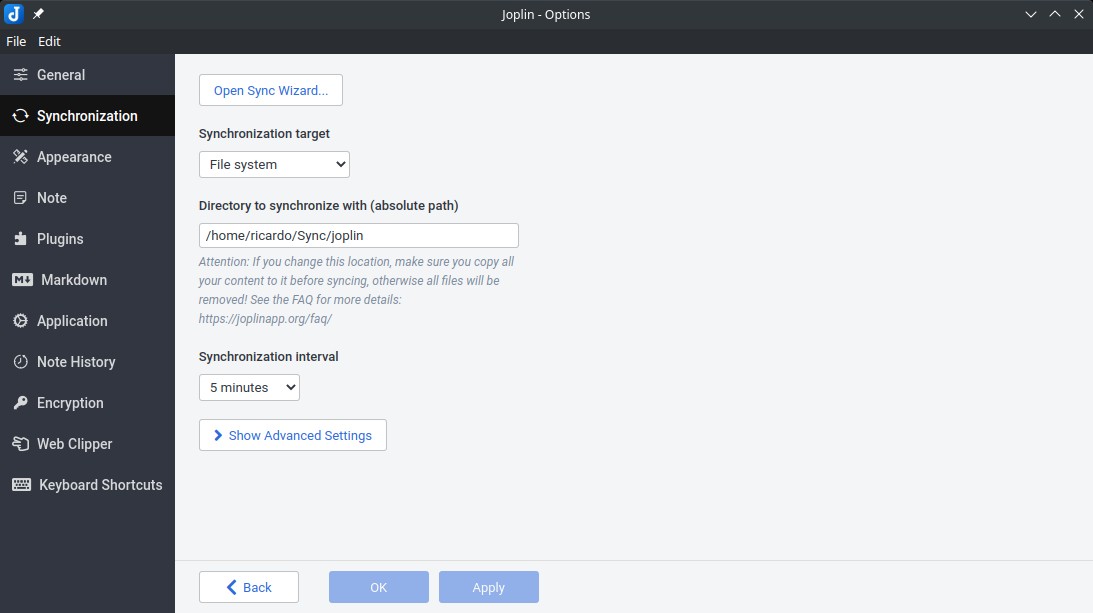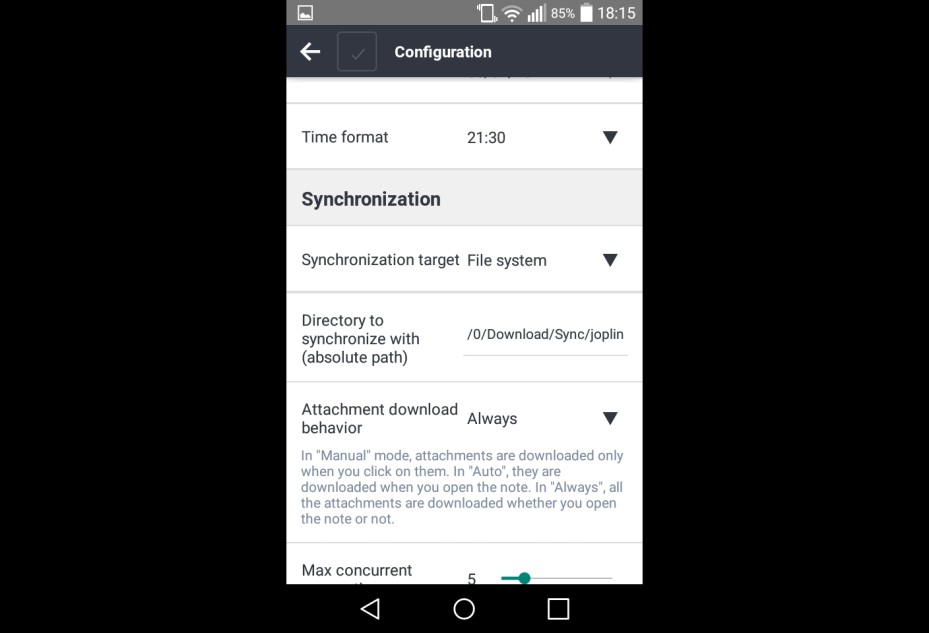 Now you can access and edit your notes on your computer and phone.
More info
Check https://joplinapp.org/help/.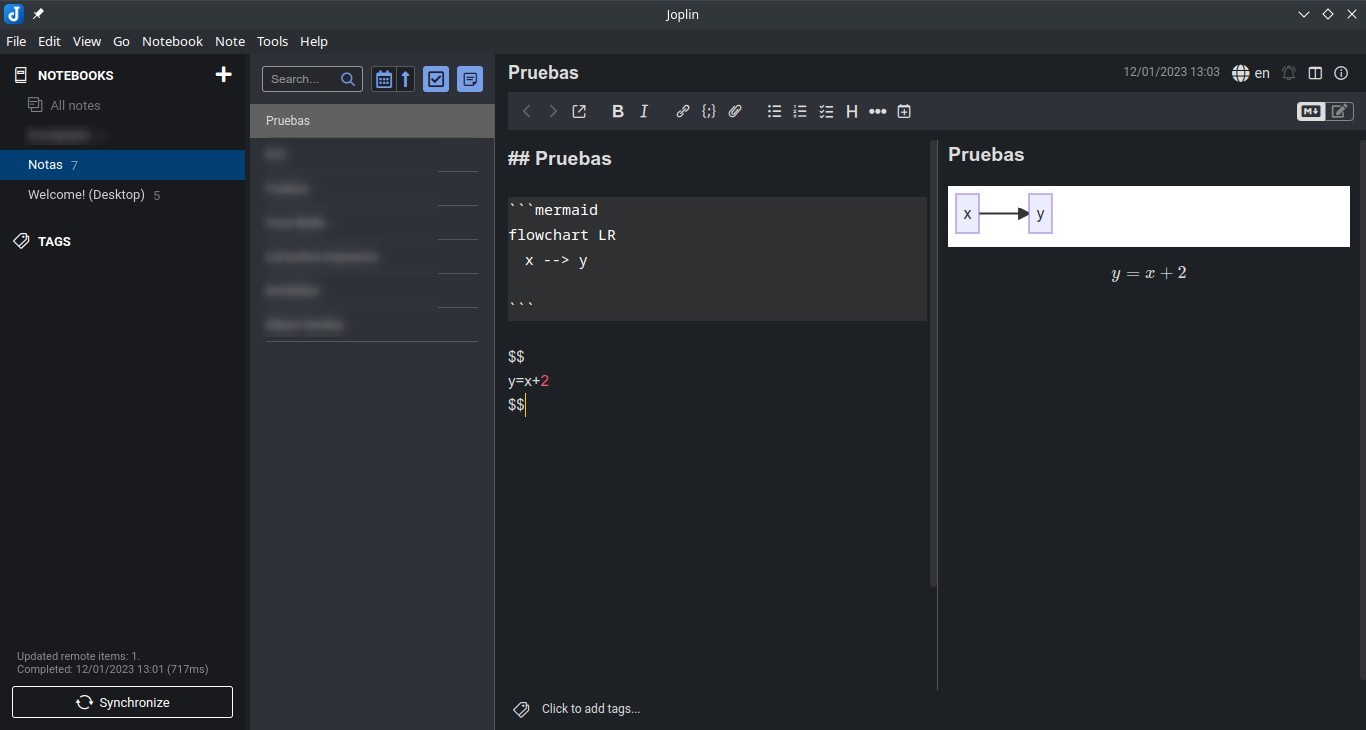 If you have any suggestion, feel free to contact me via social media or email.
---
---